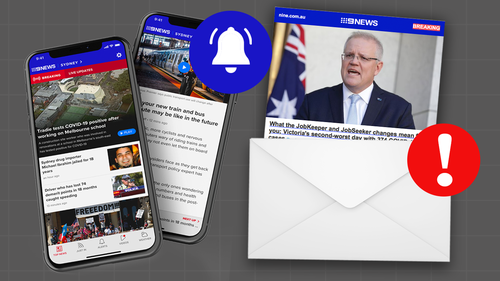 9News is keeping you informed with the 9News breaking newsletter and app alert notifications.
When you sign up for the 9News breaking newsletter, we'll send the latest national developments in coronavirus, crime, politics or sport straight to your inbox.
The 9News app gives you access to all the latest breaking news and video from a trusted team of journalists, with localised alerts so you don't miss a thing.
You can swipe through all the news and video in our app and subscribe to a variety of alerts,including?
Breaking News, Sport, Politics, World, Finance, Weather, Entertainment
and
Technology.
The app uses geo-targeting to alert you on any breaking news within a few kilometres of your current location, so you can stay up to date on traffic delays or accidents, fires, floods, and police operations.
If you feel you're getting too many alerts, or too few, you can easily change your subscriptions within the app.